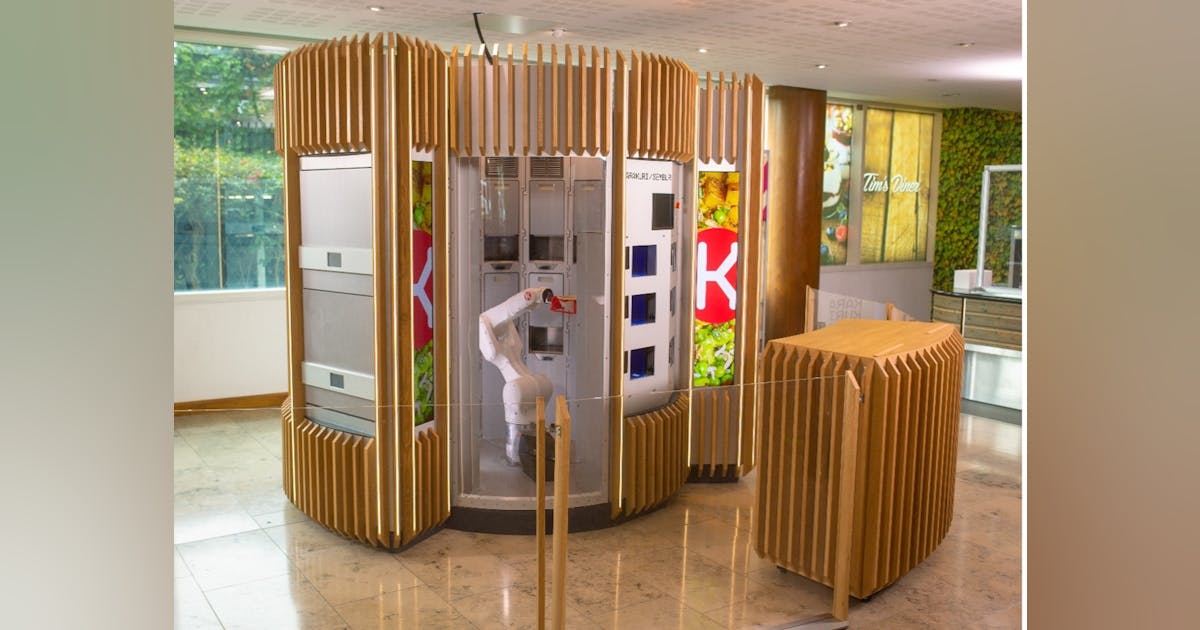 Case Study: Semblr Smart Food Processor Supports Human Chefs
Semblr is probably the most famous canteen worker in the UK right now. Indeed, the centerpiece of Semblr is a robot, or to be more precise: a KR AGILUS.
A new way to make personalized rice dishes
In September 2021, Semblr began working in "Tim's Diner". It now offers an alternative to the classic lunch menus in the staff canteen of the Ocado online grocery store. If you are hungry, you can choose to have your plate filled in the usual way by a counter employee – or head to the 2.50 meter wide by 2 meter high cylindrical booth, in which a KR AGILUS composes and serves rice dishes. .
The mastermind behind Semblr is found at integrator Karakuri, a London-based startup that currently has 36 employees. Karakuri has been developing robotic solutions for the food industry since 2019. Hatfield is not far away and Ocado is one of the companies that has invested in creating Karakuri. Indeed, Ocado is also specialized in food, but also in hardware, software and logistics. So it was a no-brainer to supply the first canteen service robot to Ocado's head office which has 4,000 employees.
Canteen Order 4.0
"It's like a conventional cafeteria," siad Liam Rogers, director of marketing and communications at Karakuri, describing the concept behind Semblr. "The client comes in and says a little of this, a little of that. The person at the counter prepares the food previously cooked in the kitchen and serves it.
Semblr takes over these tasks and works virtually side-by-side with the counter staff, who continue to be employed as the classic staff canteen still exists. Every day, employees have a choice: order home cooking in the usual way. Or order a rice dish from Semblr. In both cases, the Ocado chef is responsible for the quality of the individual components. Two Karakuri employees assist him and fill the ingredients in Semblr's service rooms. The KR AGILUS robotic arm is responsible for mixing and serving ingredients hygienically, meticulously and quickly.
Say goodbye to queues!
Thanks to Semblr's refrigerated and heated serving chambers, all ingredients are at the ideal temperature – between 3 and 80 degrees Celsius. A person remains present during service hours, currently from 12 p.m. to 2 p.m., to supervise the service of meals. The particularity of the preparation process: The guests select in advance and are offered 2,700 possible combinations with the 17 ingredients offered. They select the ingredients and their respective quantities via an app and thus pre-order their individual rice dish. Because Semblr delivers each meal in the agreed amount at the agreed time, and because the payment process is also digital, the result is an unusual picture for UK canteens: there are no queues at see.
"The idea that less interaction with others is an advantage may seem antisocial", acknowledges Liam Rogers, "but the world has simply changed in the last year and a half because of Covid-19".
Meeting only one person on the way to the meal – the staff member who oversees Semblr and assists customers if necessary – reduces the risk of infection.
The path to the perfect bowl of rice
Semblr's main asset is a KR AGILUS. Once an order has been placed digitally, it picks up a bowl just before the scheduled collection time. He then moves it to the service chambers containing the desired ingredients, one after another. An intelligent and hygienic dispensing system developed by Karakuri ensures that everything ends up in the bowl in the quantity ordered. In smooth, mess-free motions, dispensers add rice, chicken, beef, tofu, carrots and/or selected vegetables from above. Next comes the sauce, followed by toppings such as herbs or nuts. The finished dish is now ready to be picked up, along with a receipt that clearly attributes the meal to the person who ordered it.
Little hint, lots of advice
The main objective in the development of Semblr was to lighten the workload of the kitchen and canteen teams, while facilitating the management of hygiene and guaranteeing the high quality and personalization of meals.
Joe Muller, product development manager at Karakuri, reveals the details of the two-year development project: "The robot arms we've tried before just couldn't reach the speed we needed. When we contacted KUKA, the team supported us and guided us into the world of robotic arms. It was vital for us to have a flexible, space-saving robot that nevertheless had a long range. Indeed, to find space in the existing company canteens, the only possible option was a small stand. Nevertheless, the robot arm needed to have a long reach to access as many of the service rooms placed around it as possible. The KR AGILUS, a six-axis robot with a particularly small footprint, proved up to the challenges. It impresses with a range of up to 900 millimeters combined with speed and precision.
Step by step towards an effective solution
The consultation with KUKA also made the difference for Karakuri: "They worked with us to determine what issues needed to be addressed and then suggested suitable packages," continued Joe Muller. Finally, KUKA gave the Karakuri team a KR AGILUS to test. Muller recalls: "We tried it and saw that everything worked. As soon as we had the right robot, we designed the machine around it.
This did not require an additional software solution, but accessories such as a gripper arm, filling hoppers and bowls that can be cleaned efficiently and easily. First, a prototype called DK-One was created, which was to offer breakfast options from early 2020. Then came the pandemic, and the Karakuri team changed their plans. Semblr is the further development that can prepare hot and cold meals as well as six different menu lines, like the cuisine of different countries, for example.
Many small steps on the way to an appetizing happy ending
Semblr looks sleek and flawless in action, but the road to this result has been bumpy in places, as Karakuri's team admits. "Food is a very difficult commodity to process," said Liam Rogers. "It's sometimes sticky, sometimes runny, sometimes lumpy. And because kitchens are generally not very automated and there are different cooks in the kitchen, the ingredients are prepared a little differently every day. So we needed a very robust dispensing technology.
Currently, Semblr can theoretically handle 56 ingredients, and there are plans to add more in the future.
"Now they come for the food"
Semblr continues to be optimized in operation, says Joe Muller. "Speed ​​is currently limited to a maximum of 30 meals per hour. We want to stress test the system and slowly increase the speed. He believes a maximum of 110 meals per hour is realistic, "but it depends on the complexity of the recipes and the amount of each ingredient."
Ocado employees are constantly encouraged to provide feedback. They know they are participating in a study. Many came out of curiosity at first, reports Joe Muller, but now they come for the food. They also appreciate being able to continue to use their employer's traditional British canteen as well as Semblr. But only at Semblr can they unleash their culinary creativity. Liam Rogers reports: "The menus are designed so that pretty much anything can go with everything else. This results in recipes that you cannot put on a menu but the customer wants to personalize. »
"The future of gastronomy"
Stewart McGuire, Head of Business Development and Strategy at Ocado Group, made an enthusiastic statement at the inauguration of Semblr: "Ocado and Karakuri share a vision of automating key elements of the food value chain" , he pointed out. "As evidenced by the opening of our canteen, our investment goes beyond financial support, and this 'living lab' gives Karakuri the opportunity to stress test in a production environment. In addition, we are able to give our employees a little insight into the potential future of catering.
Robots could enter canteens even faster in Britain than in other countries, the 'International Federation of Robotics' has suggested in its Global Robotics Report 2021. This is because the UK robotics industry Food & Beverage almost doubled its robot installations – from 155 units in 2019 to 304 units in 2020 (+96%). Brexit and the pandemic have together led to a pronounced shortage of skilled workers in this industry. While in the past workers from other EU countries, such as those in Eastern Europe, could step in to fill the void, other solutions must now be found – such as robots, for example. .
That's not all, however. Service robots like Semblr can also improve energy efficiency and the environmental footprint of businesses. Eventually, says Joe Muller, Karakuri employees will no longer be required to supervise Semblr. The kitchen team can then take over this task, resulting in less contact and even better protection against infections. In the future, the analysis of particularly sought-after and particularly unpopular ingredients will also help to avoid food waste.
Subsequent Semblr generations could also be connected to a smart fridge. This would signal when an ingredient is running out. Another vision for the future is fully automated quality assurance, which will not even miss the fly in the ointment – or rather in the bowl of rice.
"At the start of this project, we knew nothing about industrial robotics and robotic arms. The KUKA team was very helpful. They worked with us to determine what issues needed to be addressed and then suggested suitable packages," added Joe Muller.