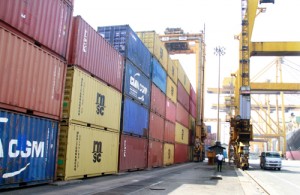 Import controls yesterday and now! | Print edition
Views) :

We, a few friends, gathered at Dharini's at the Bambalapitiya seaside for our Christmas lunch. I never thought that our friend Christo would tell us a story that is half a century old – the one I am about to reveal to you – and that I would not write it today either at the beginning of a new Year.
I called him Christo, because his name is Christopher Motha. Although we don't meet often, our annual Christmas lunch is one of the occasions we don't miss. When we met this time, it was only two weeks after Christo's uncle – his father's younger brother, had passed away at the age of 93. But her father, Delasalle Motha – the founder of Motha Confectionary Works, had passed away in the early 1990s when he was 61. As I asked him about his father's untimely death at this age around 30 years ago, Christo also opened up about his father's business venture.
Delasalle Motha established Motha Confectionery Works in 1960 with his brother, located the factory in Colombo 13, provided jobs for around 30 employees and looked after the domestic market. The business began to flourish in the 1960s thanks to Delasalle's entrepreneurial skills coupled with his innovative business ideas in the confectionery industry.
It is "jelly" that has become one of Motha Confectionery Works' most popular products. The materials needed for the jelly, in particular gelatin and petrol, were regularly supplied by imports from the United Kingdom. Delasalle wanted to ensure that the inputs for his jelly were of high quality and therefore he did not want to import it from anywhere other than the UK. It was perhaps the first time that this particular product with high quality jelly crystal was presented to Sri Lankan customers, or rather Ceylonese customers, as early as the 1960s.
Delasalle was a well-disciplined man with a healthy lifestyle and good character. He had a family with three children, including our friend Christo. Delasalle also liked to play tennis; in the evening after work and as usual went to the club to play tennis. He did well in every business – his own business, family matters and personal life, until things started to change 10 years later.
The fall
It was in 1970 that a "hard phase" of import controls and foreign exchange restrictions began to weigh on the country's economic affairs. The country's external debt had grown to over 15 percent of GDP, compared to less than 5 percent in five years; the central bank's foreign exchange reserves had fallen to two months of imports, down from around 10 months in the mid-1950s.
In response to the currency crisis, strict controls were exercised on imports and on the release of foreign currency from banks to businesses. Unlike today, it was not because the government had no choice, but because the politico-economic ideology of the government was in line with such an economic policy. The government also saw the previous government's attempt at "mini-liberalization" which was a "waste of the country's scarce foreign currency". The newly introduced controls did not reverse the plight of the Sri Lankan economy, but rather made it worse in the 1970s.
The operations of the company Motha Confectionery Works were interrupted as Delasalle was unable to import its raw materials for the manufacture of confectionery. But he continued to pay the salaries of his employees; they came to work but remained inactive in the factory premises. Delasalle believed the import controls and foreign exchange restrictions were temporary. He expected them to be lifted soon, and he could import his raw materials and start production.
As usual, Delasalle used to go to the factory and walk around looking at the machines idling and the workers hanging around. Months have turned into years and the government has tightened controls even further. Over time, he had to borrow money to pay salaries. As the years grew longer, he decided to lay off his employees for whom he had to pay compensation with borrowed money. He was in debt and did not know how to repay the loans. He continued to go to the club, but now it wasn't for playing tennis; he started drinking and became addicted to alcohol. Then he fell into depression and his health deteriorated.
Currency crisis
The government's reaction to the currency crisis is not unusual for us today. The Central Bank has used its foreign exchange reserves to ease the increasing pressure on the exchange rate; in fact, under the then "fixed" exchange rate system, it was an obligation of the Central Bank, although with today's "floating" exchange rate this is not the case. .
As the banks did not have enough foreign currency and the central bank restricted its authorization to issue foreign currency, there was a black market for foreign currency. If you went abroad in the 1970s, your foreign exchange entitlement was limited to 3 pounds and 6 shillings! Imports had been classified as "essential" and "non-essential or luxury" in order to allow only minimal imports into the country. Import controls were enforced through high tariffs, import licenses, a quota system and exchange restrictions.
In addition to import controls, the Central Bank maintained two different exchange rates as official and special rates, known as the Exchange Duty Certificate Program (FEEC); the special rate was 45 percent higher than the official rate, which was later raised to 65 percent. This means that if you import "non-essential" items, the rate applied was higher; on the export side as well, if you are exporting "non-traditional" items, you can charge the higher exchange rate. As these non-traditional exports (other than tea, rubber and coconut) were marginal, the government did not have to pay much below the special rate.
The government has also introduced a Convertible Rupee Account (CRA) program for exporters of non-traditional export products, allowing them to use 25 percent of their foreign exchange earnings to finance restricted imports. While it was envisioned that this would encourage such exports, the other aspect of the program was that they had to convert 75 percent of their export earnings into rupees.
Since the late 1960s, the government has adopted various policy measures to promote exports – especially so-called non-traditional exports – as well as to encourage foreign direct investment (FDI). But they produced no substantial results; how could they? You cannot adopt export promotion and import substitution as a "50/50" policy!
Missed opportunity
The Motha Confectionery Works tragedy was not a random event in the 1970s; it was just one example of a widespread currency crisis, converted by the government into an economic crisis. According to the available data, capacity utilization in industry was about 60 to 65 percent of the total capacity of the industrial sector between 1968 and 1977, due to the shortage of inputs. As a result, the average rate of GDP growth remained below 3 percent in 1971-1977. The domestic supply shortage worsened due to both import controls and insufficient local production. As the economy has not grown sufficiently to generate employment opportunities for a growing population – mainly educated young people, unemployment has reached 24 percent of the labor force.
Although the hardships of the people were considerable, it was because of these hardships that the country prepared for a radical policy change in 1977. As a result, trade liberalization took place overnight. Nonetheless, I believe that this historic opportunity to bring a brighter future to Sri Lanka has been sadly missed.
Well, what happened to Motha Confectionery Works? As a result of trade liberalization, the inputs needed to produce "jelly crystals" could again be imported. But it was too late because Delasalle was in no mood to reorganize his business. It was his brother who made this attempt, while the business was later taken over by another and continues to operate.
(The author is Professor of Economics at the University of Colombo and can be reached at [email protected] and follow on Twitter @SirimalAshoka).
Hitad.lk offers you used or new quality cars for sale which are economical but reliable! Now is the time to sell your old vehicle for something more appealing to the demands of today's modern car market. Browse our selection of affordable options now on Hitad.lk before deciding what will work best for you!