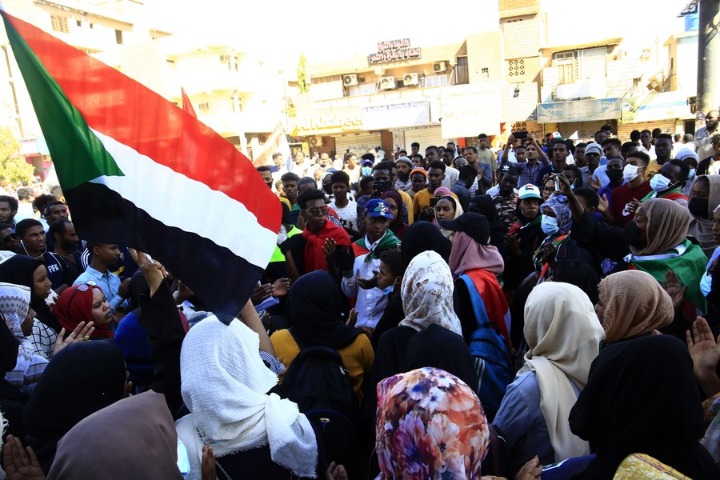 The political crisis casts a shadow over Sudan
The protests in Sudan and Abdalla Hamdok's resignation as prime minister have cast a shadow over the fragile economy of the country already reeling from the pandemic.
Hamdok resigned on Sunday following mass protests against a power-sharing deal he signed with the military that toppled the government in October.
His resignation came just two months after being reinstated following his ouster in October. The agreement aimed to calm tensions and protests.
Hamdok attributed his resignation decision to the inability to form a new cabinet due to persistent protests.
Not only is his resignation a blow to the country's economy, but it also sparked a new round of protests demanding civilian rule in the Sudanese capital Khartoum and other cities on Tuesday.
Economically, one of the elements immediately affected by Hamdok's resignation is the exchange rate of the Sudanese pound which has started to decline against major foreign currencies.
In a report by the Xinhua News Agency, forex traders said the exchange rate for 1 dollar stood at 457 Sudanese pounds on Tuesday in the parallel market, compared to 450 pounds recorded in recent days.
Falling currency
Analysts expect the local currency to continue to decline in the coming days after the political crisis.
Likewise, the humanitarian crisis in the country is also worsening. Currently, 9.8 million people in the country are severely food insecure, according to the United Nations Office for the Coordination of Humanitarian Affairs.
In addition, over 3 million people are internally displaced and 314,547 have been affected by flooding.
The United Nations agency has estimated that around 14.3 million people will need humanitarian assistance in Sudan this year.
Sudanese children are forced to work long hours as the country's economic and humanitarian crisis continues to deepen, according to independent organization Save the Children.
Sudan is also currently facing a shortage of resources, a scenario that has seen the East African country lift subsidies on gasoline, diesel and some food items. The country has also increased electricity prices by more than 600%.
In an interview with Xinhua, Sudanese economic analyst Ashraf Zain Al-Abidin called on the authorities to seek resources so as not to burden citizens.
"The authorities should seek other resources and diversify sources of income. This cannot be done at the expense of average citizens, "Al-Abidin said.
He said the United States and international agencies had suspended aid worth hundreds of millions of dollars to Sudan, while Sudan's debt relief process under the Initiative in favor of the heavily indebted poor countries of the International Monetary Fund was discontinued.
After Hamdok's resignation, UN Secretary-General Antonio Guterres urged all parties to continue to engage in constructive dialogue in order to reach an inclusive, peaceful and lasting solution.