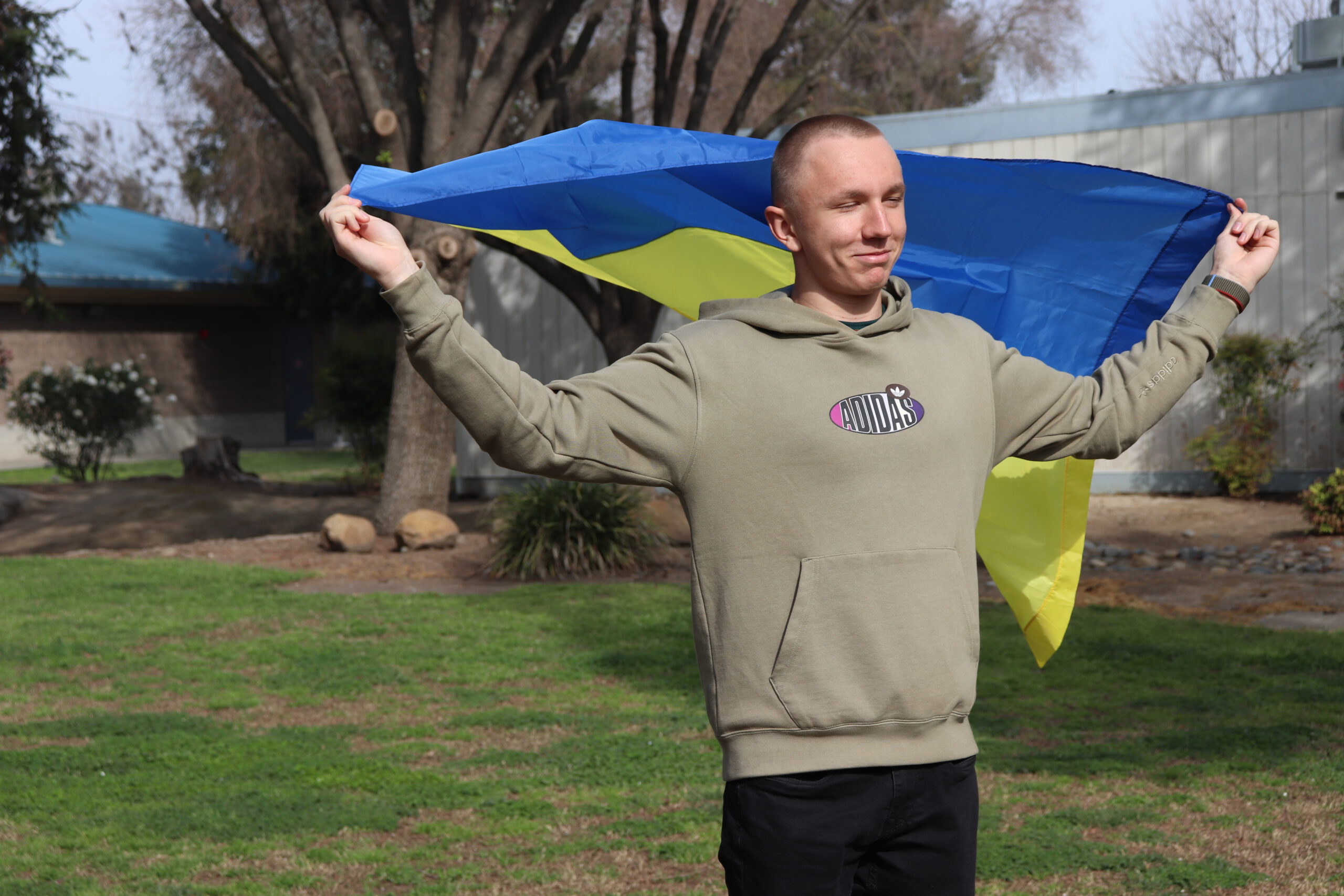 Ukrainian exchange students turn into war refugees overnight
The Russian invasion of Ukraine on February 24 displaced around 1 million Ukrainians. While the rest of the population hides in World War II bomb shelters or subway stations, foreign exchange students in the United States are another group of refugees who wonder when they will be able to return home. .
These are the stories of three foreign students. Two are trying to navigate the evolving war in their home country and one saw it coming a long time ago.
Bohdan Ryjko, 17 years old
Kovel, Ukraine
'I just want to be with my family. Whether in Ukraine or in the future Russia'
On the second day of Russia's invasion of Ukraine, Bohdan Ryzhko stood in line in the cafeteria of his American school trying to pretend it was a normal day. But, while waiting to order his lunch, he receives a dizzying message from his mother.
"In the message, she said that I pray for us, that we will be alive and safe," Ryzhko said, adding that her reading brought tears to her eyes. "At that moment, I just felt like I could fall to the ground."
Ryzhko is from Kovel, a city in northwestern Ukraine. He said his town is small, with most people raising cattle there or working in their historic downtown area.
Since last Thursday, sounds of airstrike explosions from the nearest town, Lutsk, have reverberated through the countryside. Including in his city, Kovel.
"There are sirens every day, and my mom says it's very weird to hear that sound, especially in the middle of the night," Ryzhko said.
His mother also told him that she frequently saw tanks crawling through the streets of Kovel, but did not know whether they belonged to Ukrainian or Russian military forces.
So far, no airstrikes have targeted his city, but that doesn't stop Ryzhko from worrying. "I can't do anything but check if my family is safe. I can't concentrate on anything, it's impossible," he said.
When Ryzhko left Kovel last August, it was the start of his senior year. He was excited about the opportunity to study in Visalia at college preparatory high school. Today, despite the war, he is eager to return to his family.
He only has two months left in his studies abroad, but it could be longer depending on the evolution of the war. The airways are currently closed and Ryzhko has no idea what the coming months will bring.
"I just want to be with my family. Whether in Ukraine or in the future Russia," he said.
Vasilisa Yukhno, 16 years old
Kharkov, Ukraine
"What if they die, and we don't know?" »
"We are all Slavs, when you look into my eyes, they are the same as yours. Why would you want to [Russian military forces] you want to kill me ? Why would you want to kill my family? Vassilisa Yukhno asked, shaking her hand in frustration.
Yukhno is a fashionable and smart 16-year-old from Kharkiv, Ukraine. She attends Lemoore High School for her senior year foreign exchange program. After graduating, she intended to study medicine at an American university.
But, given the war in his home country, all bets are off.
Kharkiv is located on Ukraine's northeast border, just above two separatist-held territories, Luhansk and Donetsk. For a week, the city was under constant attack from Russian forces intent on occupying it.
The conflict between Russia and Ukraine began when Yukhno was in the fourth grade. "I remember children from Luhansk and Donetsk joining my class and telling us scary things about life there," she said. "I was just a kid, I didn't really understand." Most of her life she lived peacefully with her parents, who work in the Ukrainian film industry.
Since growing up so close to Russia, her first language is Russian and she has friends in Moscow and St. Petersburg. Like most Ukrainians, she didn't think something like this conflict would ever happen.
"To be honest, I was lying in bed finishing the season finale of Euphoria when my foster mom came into my room and told me to call my mom," Yukhno said. . It was then that she learned that her town was under attack.
"I was on the phone with my mother, it was 5 a.m. in Kharkiv. She said the bombs slammed the windows. At that point, I started crying," she said.
The next day at school, none of her American classmates knew what had happened, "at first no one even asked me how I was," she said.
Yukhno has fallen into a routine since last Thursday: waking up, making sure her family is still alive, scrolling through recent headlines, going to school, coming home to sleep, and repeating.
She checks on her family when they wake up and go to sleep. Like Ryzhko, it is difficult for him to concentrate on anything else.
Her mother said food was scarce in Kharkiv. There is nothing left in the grocery stores and civilians are not allowed to move around the city. Her mother spends her days sitting by the door in case she needs to leave and find shelter from one of the many bombs bombarding the city.
But her family lacks food and they cannot leave their elderly dog ​​who is not good for travelling, Yukhno said.
"They told me there were only a few dumplings left in the freezer," Yukhno's eyes filled with tears as she struggled with this new reality. "It's scary because if they don't die from war, they will starve."
His grandparents live an hour from his parents' home in Kharkiv. "Their region is one of the most dangerous right now," Yukhno said. The bombs destroyed so many power lines that her grandparents are struggling to get electricity to work in their home.
This puts their communication with Yukhno and the rest of the family at risk. "What if they die, and we don't know?" she says.
While Yukhno experiences the war in the United States, his Russian friends in Moscow and St. Petersburg seem to be living in a different reality.
"The funny thing is that I have Russian friends who tell me it's not true. They say my president is lying and Russia only wants to make peace," she said, her friends are convinced her family is lying to her as well.
"I didn't expect them to invade, even the day before. They are smart people! Smart people would never do that. My mom and I both feel betrayed," she said.
Yukhno calls her mother "a strong Slavic woman" and anyone interacting with Yukhno could say the same about her. Despite the destruction of her hometown, she remains calm and hopes things will be resolved.
"Right now I'm doing really well," she said, with a slight tremor, "but I'm going to cry when I see my town destroyed."
Luka Mamuladze, 18 years old
Tibilisi, Georgia
"I was 4 years old when my father went to war"
Luka Mamuladze is a senior from Georgia and attends college preparatory high school with Bohdan Ryzhko. He is not surprised that Russia invaded Ukraine, only that it turned violent so quickly.
When he arrived in the United States, the most common question he answered was not "what is the weather like in your country", but "wait? Isn't Georgia an American state? »
He never loses patience with this question, calmly explaining that Georgia is located at the southeast corner of the Black Sea, bordering Russia to the north, Azerbaijan and Armenia to the east.
Mamuladze lives in Tbilisi, the capital of Georgia. He is proud of his country and takes every opportunity to talk about its history, its cuisine and one of the 25,000 rivers that bring him purified water ready to drink.
"In English, Tbilisi means hot," he said. And the city is really warm, filled with Georgian soul food and a lively hot spring in the historic city center.
Despite these developments, Georgia experienced a heavy battle for independence.
"Everyone has sympathy for Ukraine, but Georgians understand it better," Mamuladze said. "I was four years old when my father went to war."
He said he sometimes still had vague flashbacks to 2008, when Russia invaded and declared the occupation of Tskhinvalia central region of Georgia located north of the capital, Tbilisi.
Georgia could barely defend itself, "think of the size of Ukraine's capital, Kiev. That's the size of my whole country. A city, think about it.
Now the territory has a moving border and is getting closer to Mamuladze every day.
Thursday, March 3, Georgian Prime Minister Irakli Garibashvili signed a petition that the country be recognized as part of the European Union, "I was very worried about this decision because it could provoke Russian military forces in my country", he said.
As he completes the last two months of his exchange program, Mamuladze tries not to think about the conflict: "It's something I'll think about when I get home. He said he always follows the headlines to stay informed.
"It's quite difficult trying to distract my friends, but when I put myself in their shoes, how worried must they be? I can barely imagine," Mamuladze said.