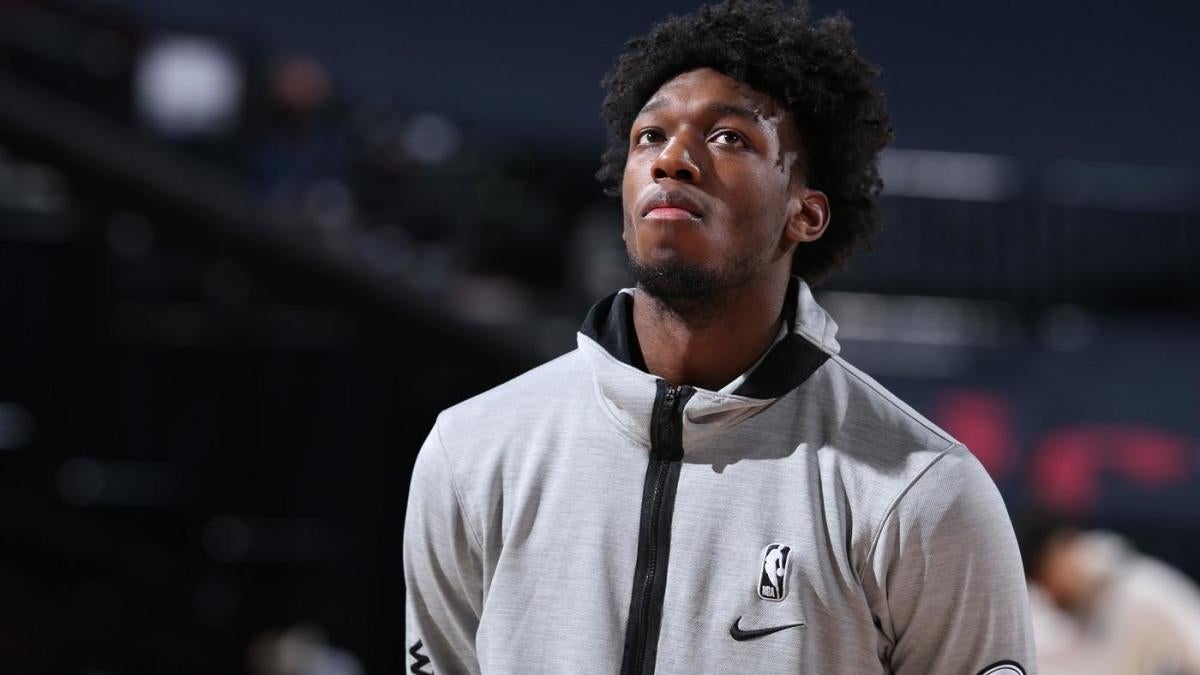 Warriors see James Wiseman as future star, won't trade him this season, report says
The Golden State Warriors have no plans to put 20-year-old center James Wiseman on the commercial market before the February 10 trade deadline, according to The Athletic's Tim Kawakami. In fact, Kawakami put it in stronger terms than that: they "don't negotiate Wiseman. They absolutely aren't."
Wiseman, the No.2 pick in the 2020 NBA Draft, tore his meniscus in his right knee in April and has yet to be cleared to play. The season-ending injury coincided with Golden State's 15-5 rampage, and they've been even better this season, posting a 21-4 record and a net plus-12.9.
As an extremely raw rookie, Wiseman unsurprisingly struggled to grasp the nuances of NBA-level team defense, and he struggled to adjust to the Warriors' offensive reading and reaction system. Since his dismissal, the Warriors have split their minutes head-on between Draymond Green, Kevon Looney, Juan Toscano-Anderson and, this season, Otto Porter and Nemanja Bjelica, with extraordinary results. None of these guys provide the vertical spacing that Wiseman does, however, and coach Steve Kerr has said on several occasions that he will try to keep things simple for Wiseman when he returns: put up solid screens, ride hard, finish around the basket and bounce.
According to The Athletic, Golden State's front office considers anything Wiseman can give the team this season as "mostly a bonus" but believes he can be a star on the road. He also wouldn't be interested in trading for Ben Simmons or Myles Turner, and he "loves" having three recent lottery picks – Wiseman, as well as rookies Jonathan Kuminga and Moses Moody, both of whom are 19 and have scored 62. combined points for the Santa Cruz Warriors of the G League on Wednesday – pending backstage. This ties in with everything owner Joe Lacob has said on the subject.
In the ideal Warriors' world, they won't need to upgrade by the deadline because A) they're already great on both sides, and B) Klay Thompson's relatively close return will work like their acquisition. half season. Maybe Wiseman himself will give them a different dimension, and maybe Kuminga or Moody will plead for more playing time, but, even if neither of the youngsters are in the mix, there will be intense competition. internal to enter the playoff rotation. . Apart from the current five holders and Thompson, there will be six guys who will fight for places: Bjelica, Toscano-Anderson, Porter, Andre Iguodala, Gary Payton II and Damion Lee. It's not like Golden State is desperate for more talent.
The flip side is that being great on both sides and having a full roster of great actors is also an argument. for trading Wiseman, Kuminga, Moody and even future draft picks. The Warriors are unequivocal in the top tier of the league, and they have the statistical profile of a championship favorite, but, being the team that has won an NBA record 73 games in the regular season, climbed 3-1 in the final and haven't finished the job, they know better than anyone that the margin for error is slim. Stephen Curry will be 34 in March, and by then Green and Thompson will both be 32. After three championships, five consecutive final appearances and everything they've endured, doesn't Golden State owe it to its local stars? do everything in their power to maximize this season?
I say yes, the Warriors absolutely owe it to them. I also don't think the front office is necessarily doing them a disservice right now. What would it be for Golden State to signal that it doesn't like its young players and trade them in for modest upgrades? What to expect in the name of D'Angelo Russell? The Warriors can simultaneously be bullish about Wiseman's rise, delighted with their roster, doubtful the right trade will present itself, and ready to pounce if it does.
There is a caveat in Kawakami's story: he writes that Golden State "won't even consider" negotiating much of its present or future "unless someone is much more transformative than Turner or Simmons does not become available ". This suggests that the Warriors' willingness to air their intentions is directly tied to their assessment of the trading market. Golden State's fundamental dilemma will not change over the next two months, but the trading market may shift the math. Until 3 p.m. ET on February 10, the Warriors will have options on the table that sacrifice youth and depth in the name of improving their chances of winning the 2022 title. Exactly which players do they see as "transformative" enough to invest some of their tokens? That has always been the big question, and Golden State has no interest in suggesting the list goes on.